It's Mini Monday, where I share customizing, scratch building, kitbashing, and miniature painting projects for your roleplaying and tabletop gaming. This week we're building Ork barricades from Christmas trash.
Ah yes, the dust has settled after the strangest Christmas and New Years' Eve in living history, and 2021 is picking up steam. Time to make something, and what's better than recycling that Christmas trash to make something Orky. Of course, you might already have recycled/trashed/incinerated/buried the last signs of the festive season, but you'll always generate more waste, so let's go!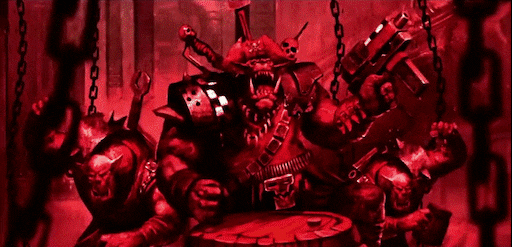 Ork Barricades
These Ork barricades are similar to the ones you can get in the Mekboy Workshop, or the barricades Games Workshop used to sell as a terrain pack, but they're very easy to build yourself using nothing but bits of scrap cardboard and plastic.
I cut out 6-inch strips of cardboard, then glued bits of cardboard and plastic onto them. That's basically it. We're done.
Okay, but seriously, there are a few tricks to making this look good:
Cut the cardboard and plastic sheets at angles. Bend them and add damage like cuts or bullet holes to make them look even more Orky.
Stick the sheets down at angles, leaning on each other. This gives a sense of three-dimensionality to the terrain and makes it stronger. Orky things are always off-kilter.
Cut out "teef" of card to decorate the terrain.
Cut tiny squares of plastic to make Orky rivets. I use those little plastic tabs that hold bread bags closed. Cut them into strips, then squares, then superglue them onto your model.
Painting
I used a heavy-duty red primer to make the models more resistant to wear and tear. I then painted the "metal" sections black or stippled orange onto them. I also left some unpainted. I then dabbed brown onto the orange sections with a sponge to make them look rusted. I then dry brushed the edges of the models with silver paint and put a black wash over the whole thing to finish it off. The ground was painted dark gray and dry brushed light gray.
Just be sure to let your Ork barricades dry between coats. I had to redo a bunch of dry brushing because I was getting too happy with the brush, which just blended everything together. Patience, young grasshopper, patience.
And that's it.
The best advice I can give is to give it a try. I was skeptical about how good the cardboard would look, but in the end, I was very pleased with how they turned out. The only thing I'd change is that I'd base them on tongue depressors or hardboard instead of cardboard.
Hey there, I'm Rodney!
I'm a writer and editor of tabletop RPGs and a painter of Orks. Welcome to Rising Phoenix Games!
Dwarves Rule! By the Power of Greyskull! Jesus Saves! Turtle Power! Bionics On! Waaagh Ork! For the Golgari, for the Swarm! ThunderCats Ho! Skate the Apocalypse!